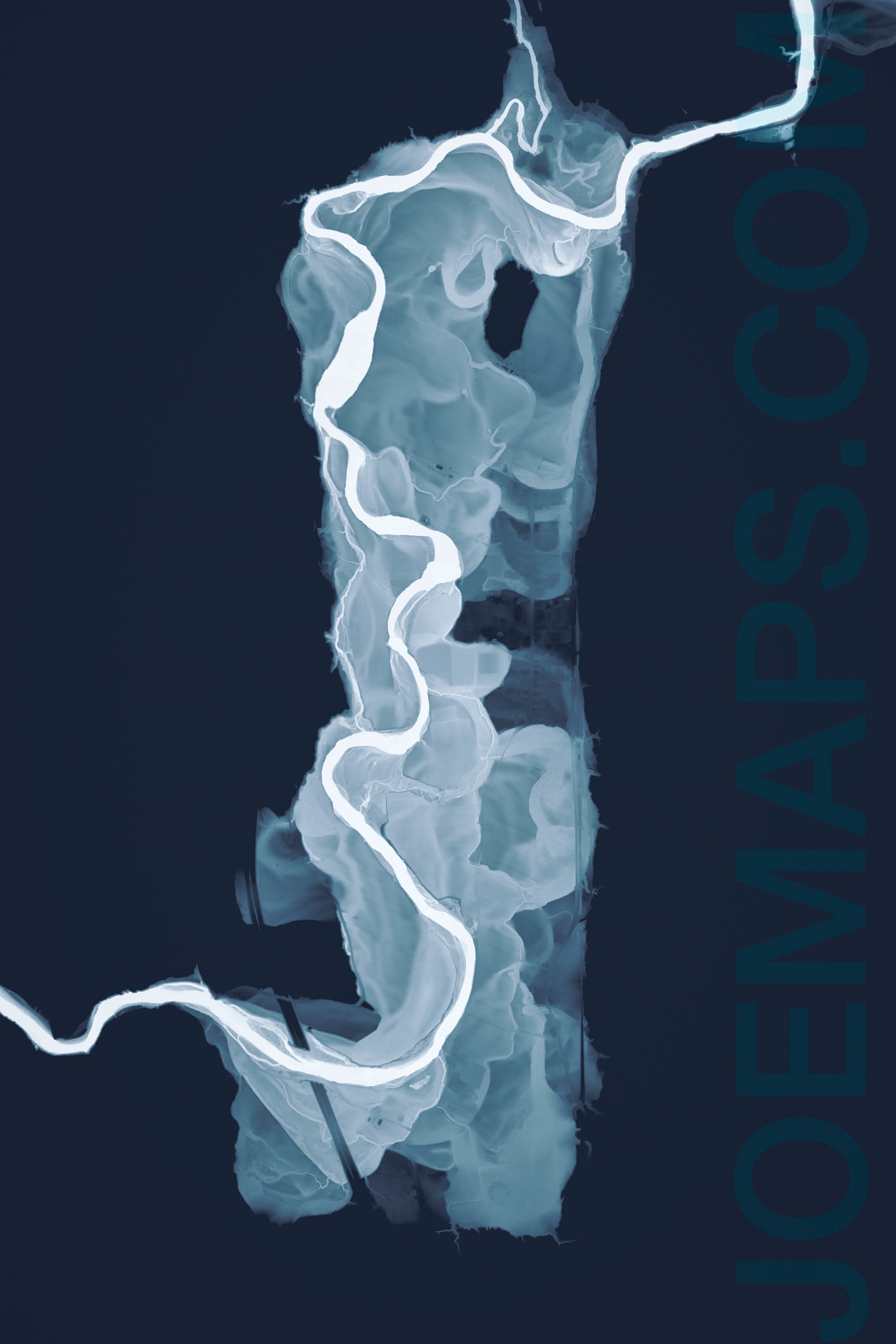 Deerfield River (blue background)
$39.99
Details
This map shows the Deerfield River exiting its gorge at Stillwater (lower left) and spreads out into a beautiful meander belt in the Deerfield Valley... through present-day Historic Deerfield and the village of Wapping, joining with the Connecticut River at Cheapside in Greenfield, MA (upper right). The Green River joins in from the north (top center).

The delicate washes and structure bordering the river are evidence of its many meanders, old channels, and oxbows since the draining of Glacial Lake Hitchcock ~15,600 years ago.

I was inspired to make this map after seeing Daniel Coe's work (www.kartopics.com) portraying the Williamette River in Oregon. This cartographic style is used with his permission. This map was made using GIS software and the detailed elevation data derived from LiDAR imagery, collected by the U.S. Geological Survey and MassGIS. The map is primarily an elevation map: The river is white, with higher elevations at progressively darker shades of blue, with everything 35-40 feet above the surface of the river, above its floodplain, masked out.

Smaller sizes of this map (8x12", 12x18") are printed on fine-art paper with a matte finish.

Larger sizes (24x36", 32x48") are printed on canvas and stretched over a wooden frame, ready for hanging on your wall.

Prints do not include the joemaps.com watermark, or annotations of features.

Shipping is Free!

Prints are shipped directly from the printer to you. Unfortunately we cannot accommodate local pickup or delivery. Please allow up to 3-4 business days for order processing and printing, and up to an additional 5 business days for shipping. While I cannot accommodate faster processing times, please contact me prior to ordering if you need faster shipping options.